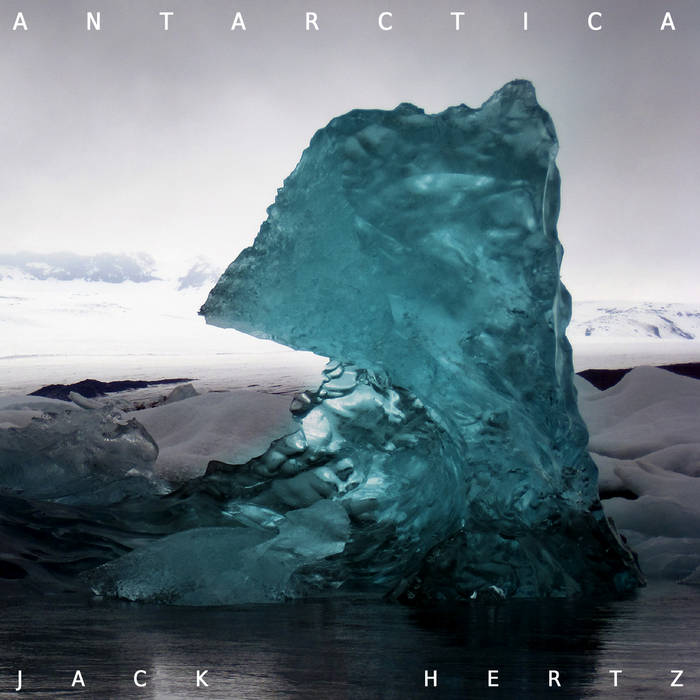 The coldest, driest, and windiest continent on Earth has inspired several music artists over the years - keyboard icon Vangelis himself offered a lovely soundtrack of the same name in 1983 - and this time it's sound experimentalist Jack Hertz who delivers a themed work on the ice covered desert for the Aural Films label. Jack's music can cover a whole range of styles, from progressive-electronic/Berlin School to ambient and well beyond, but it's in pristine icy drones, eerie sound-collages and calmer ruminations that `Antarctica' has its sound. 
Opener `Frozen Wave' is a sustaining and panning machine groan with a howling but not hostile ebb and flow, `Sun Run' perfectly balances ringing crystalline cold with pure ambient touches, and `Coldness' is an unwavering hovering drone similar to the opener. `Polynya' is teeming with life and is a warmer lulling ambient embrace not dissimilar to the gentler early Steve Roach pieces with cooing synth caresses, making it one of the highlights. `The Calving' is a cavernous, rumbling and submerged sound collage, the dream-like `Cravasse' is groaning and piercing with maddening pin-drop trickling machine pulses, soothing ambient washes lap around the crashing rumble of `Thunder Hill', and the completely sublime `Endless Blue' is a softly panning hum of shimmering synth slivers against spacey isolation that almost reminds of Tangerine Dream's defining proto- dark ambient classic `Zeit'. 
In many ways, `Antarctica' is an uncompromising and difficult work that many will find too vague, uneventful or just downright cold, especially on the two longer early tracks. It admittedly holds a frequently suffocating, overwhelming mood with only a few softer moments to provide some relief, but it's actually quite a darkly beautiful album if you let it seep in. Newcomers to Jack's music would probably be better off starting with the more accessible `Planet Red' set or even the drowsy`Secret Coves' (both also from 2016), but `Antarctica' is best suited to long-time electronic or dark ambient listeners, or those prog-electronic listeners who don't mind their music on the minimal and experimental side. 
Three and a half stars (but seasoned electronic/experimental fans can make this a four).

Original Review: http://www.progarchives.com/Review.asp?id=1689364
Album Page: https://auralfilms.bandcamp.com/album/antarctica